Introduction of CSIS Joint Research
Who can join CSIS joint research :

A person who belongs to a research institution and is engaged only in research or in research and education. Includes students who conduct the rules of joint research.

Duration of application :

From April 1 to March 31, Japanese facial year.

Duration of research project

Until the end of Japanese FY, March 31. We accept an application for continuation from March to June every year.

Available dataset :

List of dataset is available here.

How to use the data :

You can download the data from JoRAS website online. JoRAS account is requested for joint research application and to download the data.

Annual report :

Please report us the outcome of the research project. You are also welcome to give a presentation at CSIS DAYS(CSIS DAYS website is only in Japanese)

Publications :

If you publish the outcome of the research project, please mention about the joint research scheme in .


[ Example of acknowledgements ]


This research was the result of the joint research with CSIS, the University of Tokyo (No. ##) and used the following data: AAA data provided by YYY CO., LTD and BBB data provided by ZZZ of Japan.
Basic flow of how to start a joint research project
Since the SDP includes some datasets that can only be provided with strict limitation by their term of use, copyrights and purpose of use (i.e., some datasets are provided by commercial companies and other organizations only for research purposes), any person who wants to use SDP should apply joint research involving the use of the SDP, hereafter called "Joint Research", following the Rules for Joint Research (PDF). The user will get permission to access SDP as a Joint Research Investigator upon obtaining an approval by the National Joint Research Examination Committee at CSIS.
All the application procedures for Joint Research are operated online. If you want to use the SDP, please refer to the Instruction for Application (PDF) to start a Joint Research project in JoRAS: Joint Research Application System. Upon approval, you will be able to access the requested datasets and serveices of SDP, exept for some external services, through JoRAS.
Flow charts of application of a new project is listed below:
[Important] When applying the Joint Research, please carefully select necessary datasets/services that match your research purpose.
Application of a new project: hosting CSIS faculty decided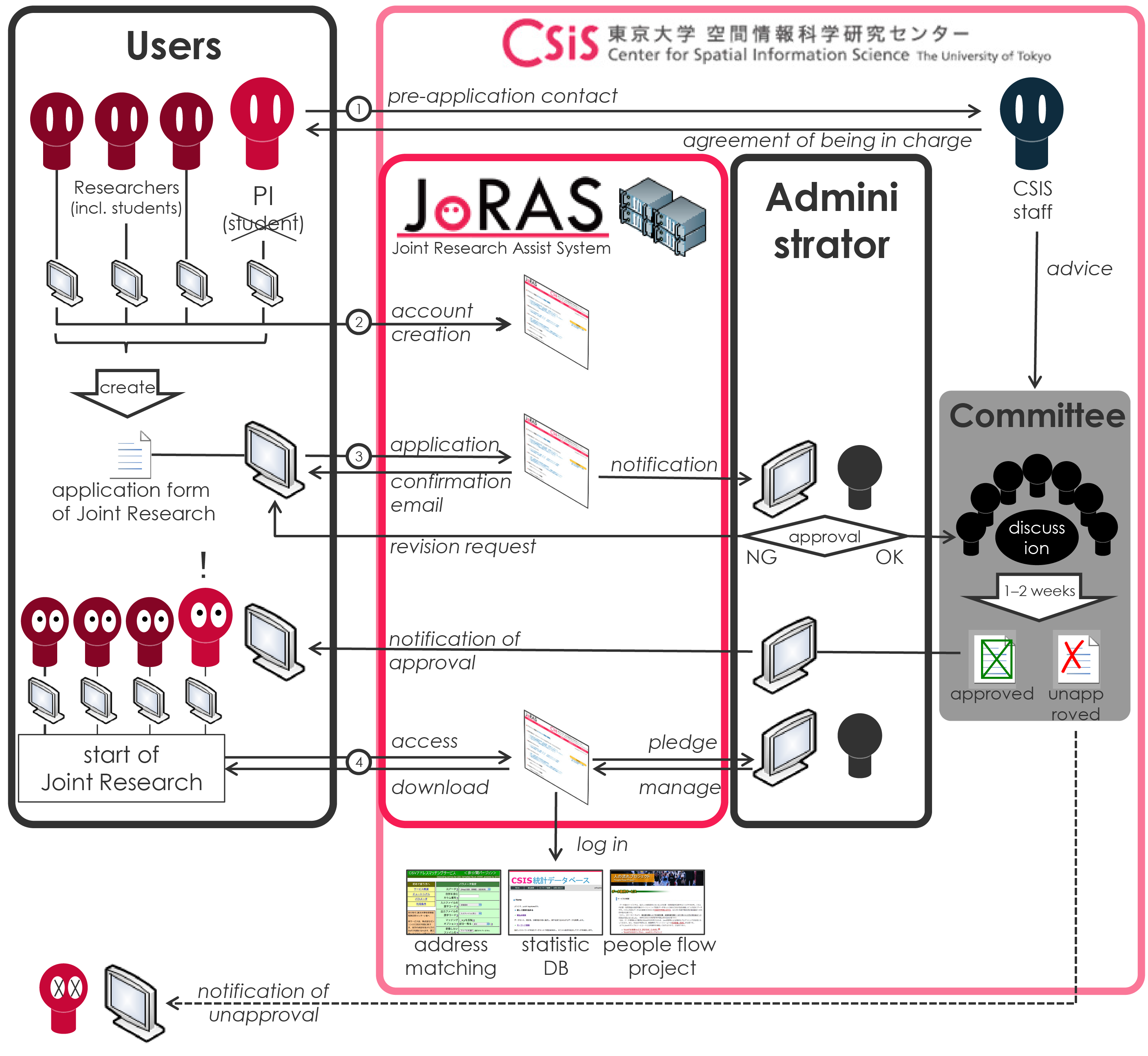 Application of a new project: hosting CSIS faculty undecided